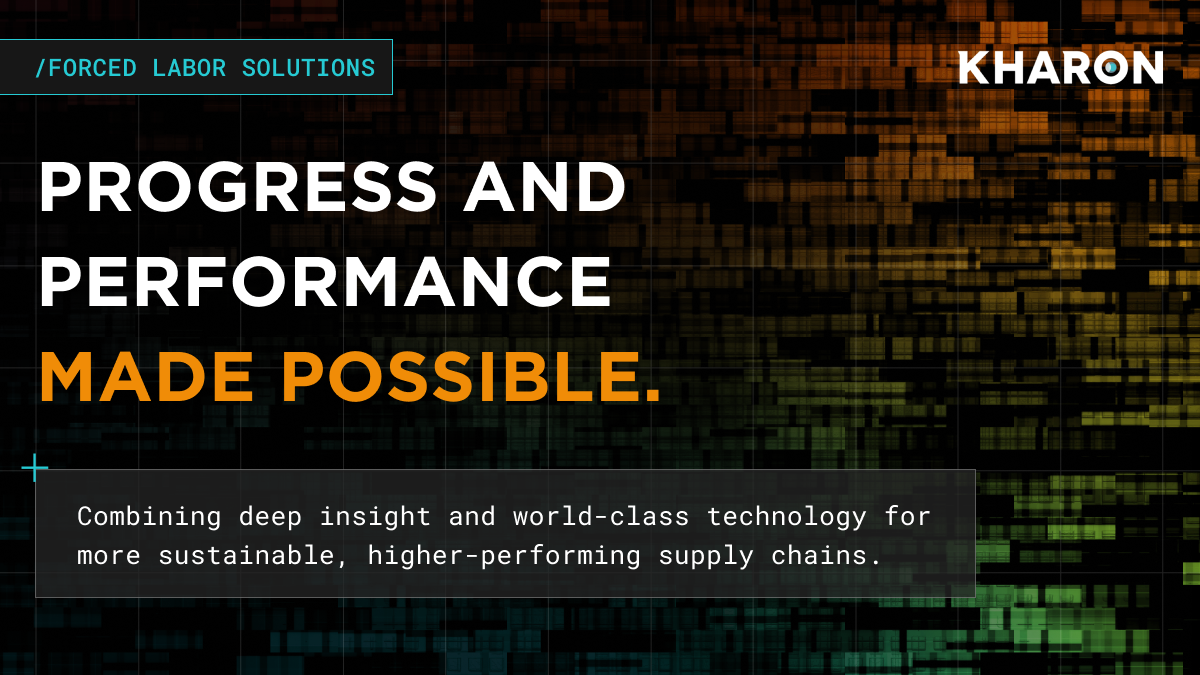 Government regulations — including the U.S.' Uyghur Forced Labor Prevention Act (UFLPA) — enforcement actions, headlines, and industry best practices have all drawn attention to concerns surrounding forced labor and human rights in global supply chains.

The UFLPA significantly expands compliance requirements for industry to ensure that goods made with forced labor in the Xinjiang Uyghur Autonomous Region (XUAR) of the People's Republic of China do not enter the United States. Furthermore, the U.S. government presumes that all items made in Xinjiang were produced using forced labor, with the burden of proof resting on importers to provide "clear and convincing evidence" that materials, parts, and goods "originating in China were not mined, produced, or manufactured wholly or in part" in Xinjiang.

Why choose Kharon's Forced Labor solution?
+ Empowering Regulators and Protecting Customers: The Kharon platform is utilized by the U.S. Customs & Border Protection (CBP) to aid in its investigations and the enforcement of the UFLPA, and is a trusted trade compliance resource at the world's leading organizations.
+ True Trade Controls Expertise: Kharon is the industry leader in providing comprehensive data and analytics on companies directly or indirectly impacted by trade controls. Our data provides critical and comprehensive information about thousands of manufacturers and traders of high-risk products, as well as their networks and potential connections to U.S. government-identified forced labor indicators like co-location with prisons and internment camps, participation in labor transfers, and more.
+ Verifiable Data: Kharon provides visibility into the underlying source materials our subject matter expert analysts use to identify UFLPA risk. This data may be accessed through a data feed, and through our transformative user interface Kharon ClearView.
+ Elimination of Noise: By starting our research with the source of the forced labor risk itself, Kharon's Forced Labor data includes only risk-relevant insights into global supply chains that present potential UFLPA risk. The result is a substantial reduction in operational noise from false positives, and extraneous and chaotic data.
+ Extensive Ecosystem: With our broad network of supply chain technology partners, our forced labor solutions provide the flexibility and scale you need to prevent unexpected supply chain disruptions and mitigate reputational risk.
Proactively surfacing forced labor and human rights risk within your supply chains is essential to maintaining a strong enterprise risk management program.

Kharon's Forced Labor dataset makes navigating this dynamic regulatory landscape less challenging by helping you screen for forced labor indicators and typologies as outlined in government regulations and guidance in your existing supply chain platform — allowing you to uncover and mitigate exposure to forced labor and human rights risk in your supply chains that can otherwise remain hidden and avoid regulatory, enforcement, and reputational risk.